Fifteen years ago today, a phone call changed my life.
Often, when someone says that a phone call changed their life, it's bad news. The death of a loved one, a job loss, a frightening diagnosis. However, in my case, the woman on the other end of the line was Gail Chasan, a senior editor at Silhouette Books. She offered to buy my first romance novel.
It was 12:01 PM on December 1, 2000.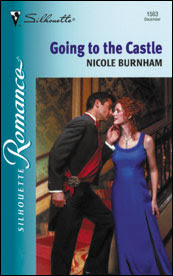 When I hung up the phone, I called my husband, got his voice mail, and left a message asking him to
call me
immediately. Then I told myself I'd make the most of the opportunity to write for a living.
Going to the Castle
hit store shelves in December 2001, and I've been a full-time writer ever since. I wouldn't change it for the world.
There's been a lot to celebrate in the last fifteen years. I've had letters and emails from readers that have made me smile and—on several occasions—laugh loud enough to scare my dog. I've made lifelong friends I never would've met otherwise. Three of my books have been RITA finalists and one even won. Best of all, I spend my days writing stories about compelling people and the challenges they must face.
That's not to say there haven't been bumps on the road. When I made the decision to become a full time writer, I quit practicing law, a career for which I'd studied long and hard (and let's not talk about law school tuition.) It was a big risk, knowing it'd be difficult to go back if I couldn't make it as a writer. During my first years as a published author, I also wrote for a number of magazines as a freelancer, which meant crazy hours but more income.
Eventually, I sold a young adult novel and dropped most of the magazine work in order to maintain both a romance writing career (as
Nicole Burnham
) and the young adult career (as
Niki Burnham
.) Still crazy hours, but they were more predictable. Eventually, due to contract changes and editorial shuffling, I found myself down to one publisher and a less-than-ideal contract. I made a difficult choice—but the right one—and, once again, took a risk and walked away.
Offers came from other publishers, but nice as they were, the stories they wanted me to write didn't tap into my strengths as an author, nor were they what my readers wanted to read. By this time, I'd built a small but solid following, so I decided to write what I knew would work both for me and for those readers: a series of romances centered around a sprawling, messy royal family from southern Europe. I wanted to make each story different, yet give readers the uplifting tone they desired and a spectacular setting they would relish revisiting.
I took the leap and self-published a novella and the first two books in the
Royal Scandals series
simultaneously. Two more full-length books and two novellas have joined those first books.
Many of you who read my books from the very start with Silhouette picked up the Royal Scandals series. Others who found me via my Niki Burnham books for teens (and who are now adults!) have done the same. Better still, you've shared your love of the series with your friends, and the series has grown steadily in popularity.
Thanks to you, I've been able to keep the promise I made to myself when I received that life-changing phone call fifteen years ago.
Needless to say, there are more Royal Scandals books on the way. I'm also planning a new series, one I think you'll enjoy.
In this season of gratitude, I wanted to take the opportunity to say thank you to Gail Chasan for making that phone call and believing in my talent. Most of all, I want to thank you, my readers, for fifteen wonderful years.
I look forward to the next fifteen.